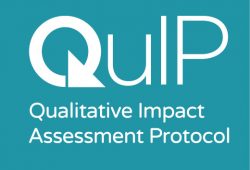 The QuIP provides a straightforward and cost-effective mechanism to ask intended beneficiaries about significant drivers of change in their lives, and to analyse and present the data collected.
The approach is designed to help organisations to assess, learn from and demonstrate the social impact of their work. It places intended beneficiaries' voices at the centre of reporting, and demonstrates a genuine commitment to learning about what works and what doesn't work. The QuIP reveals what your most important stakeholders really think is significant. 
The QuIP's starting point is the belief that, while important, quantitative change data is rarely a sufficient source of evidence of social impact; but we know that it can be difficult to access and apply good qualitative research methods within limited budgets. It can also be difficult to convince funders that qualitative research is rigorous and reliable enough. The QuIP has been developed to try to address all these issues, creating an innovative and trusted approach that has already gained recognition by leading donors and non-governmental organisations.
A very short animation can be viewed below, or for more detail download our briefing paper here. For even more more detail please refer to the QuIP Casebook – Attributing Development Impact. This is available in hard copy, but also as a free download.
Please note that BSDR uses the Bath QuIP methodology and name under licence from the University of Bath which holds a trademark on the name in order to help protect the integrity of the approach. Use of the name without a licence is limited to non-profit dissemination purposes only and a licence for use of the 'Bath QuIP' name in association with official evaluation studies will only be issued following full accreditation after training. Please contact us at info@bathsdr.org to notify us if you plan to use the QuIP in your work and we will do what we can to support you.