QuIP Casebook to be published in early 2019
By Fiona Remnant | 6 December 2018 | Uncategorised
We're delighted to announce, after many months of work, that 'Attributing Development Impact: The Qualitative Impact Protocol Casebook' will be published in Spring 2019. A pre-publication flyer with more information can be downloaded here.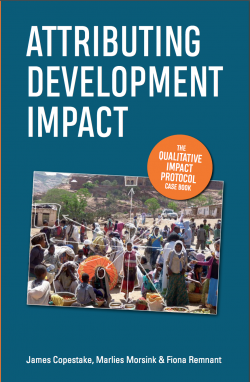 The book reviews many of the studies undertaken by BSDR in the first two years following the initial research, a period of further action research which enabled us to refine and develop the approach alongside committed and engaged early adopters! With the benefit of these experiences, the authors present the main features of QuIP and review what the QuIP has to offer alongside more than thirty other approaches to impact assessment. Reviews and endorsements will follow in 2019…
Thanks to the very generous support of the University of Bath Alumni Fund, we have secured Open Access rights, so the book will be available as a pdf online, as well as available to purchase in hard copy.