Causal Pathways virtual symposium in September!
By Fiona Remnant | 10 August 2023 | News
Bath SDR is an active member of the Causal Pathways network – a group set up to focus interest in all things causal, particularly amongst US philanthropic institutions. The group has a centralised resource hub and news page which you can find at causalpathways.org. Here we bring you news of a virtual symposium which may be of interest to some of our readers!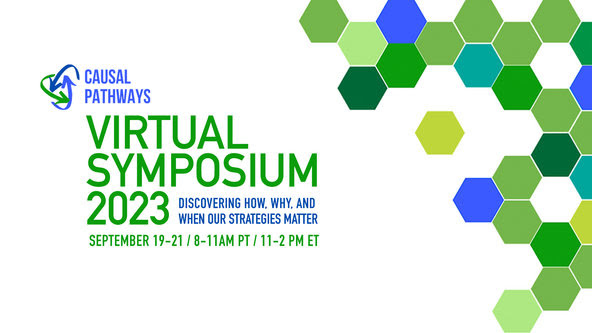 The symposium will take place online between 19-21 September 2023 and aims to build understanding of the evaluation and participatory practices that make causal pathways more visible. It is intended for both evaluators and evaluation commissioners who want to learn more about how to understand how, why, and under what conditions change is happening using non-experimental methods, while making their evaluations highly participatory and equity focused. You can find an overview of the agenda and presenters on the event website.
What can you expect from attending the Symposium?
– Case studies that make the work of causal pathways visible, including in highly participatory action research and evaluation projects
– Dynamic sessions led by expert methodologists and philanthropic partners deeply engaged in causal pathways work
– Networking with evaluators and funders grappling with causal questions
– Opportunities to ask questions in small group settings with colleagues at similar points in their causal pathways journey
– Opportunities to dive into different methodologies and learn how to using them to understand causal links in your evaluations
Other events this year
As well as the Causal Pathways symposium, Bath SDR will also be presenting at the UK Evaluation Society conference on 3rd October in London, talking about our work with Kantar Public on the Safer Streets Fund evaluations with the UK Home Office.
We also plan to be at the AEA conference in Indianapolis in October, working with other Causal Pathways network members to host a full day pre-conference professional development training on Tuesday, October 10th: "Making causality visible amid complexity: Approaches and tools for causal understanding that can be applied in complex, dynamic contexts."
This training will prepare participants to better understand when and how to integrate a deep causal understanding into an evaluation design. You can learn more on the AEA conference website
Further resources
Some recent Causal Pathways resources:
– Does our theory match your theory? Theories of Change and causal maps in Ghana, Fiona Remnant, Steve Powell, Rebekah Avard, Aurelie Larquemin. This chapter is published in the book Strategic Thinking, Design and the Theory of Change: A Framework for Designing Impactful and Transformational Social Interventions.
– Testing how robust contribution analysis can be: Finding and using causal hotspots: a practice in the making, Marina Apgar, Mieke Snijder
– Discussion on the meaning of value: The politics of valuing, Tom Aston