Qualitative research in a pandemic
By Fiona Remnant | 13 May 2020 | Uncategorised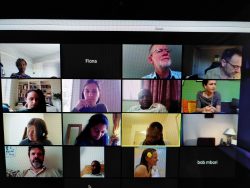 Last week members of the Bath SDR research network and the University of Bath Centre for Development Studies joined together for a virtual discussion about the future practicalities of qualitative research in light of current restrictions on movement and contact. Researchers working in countries all over the world shared their thoughts and ideas on how we can adapt work over the next few months, and potentially longer.
Discussions such as these are taking place across many different organisations and people have generously shared ideas and resources for adapting evaluation methods in a short space of time; see for example Better Evaluation's blog, M-CRIL's webinars including today's on Managing field research with social distancing, World Bank blogs, resources from the European Commission Evaluation Support Team, Humanitarian Data Solutions, 60 Decibels and a great Google Doc put together by researchers on Doing Fieldwork in a Pandemic. Much of the discussion has focused on conducting surveys and interviews remotely by relying on telephone or the internet. Our focus in this discussion was on methods that cannot easily be conducted remotely, including in-depth ethnographic research based on observation, engagement and trust building over a longer period, and QuIP-style interviews that also rely on experienced researchers being able to put respondents at ease and encourage them to share personal and detailed stories of change.
Although we can and have conducted QuIP interviews remotely in the past, these have generally been with government and NGO employees, and about their work rather than their personal lives. These were people who had access to the internet or at least a reliable phone signal, and who are used to talking on the phone for extended periods of time. However, many of the respondents who Bath SDR seek to interview live in remote areas, may not have a reliable telephone signal, and are not used to speaking with strangers over the telephone for extended periods of time. The QuIP particularly relies on researchers being able to locate respondents for whom there may not be publicly available contact details, for reasons of data protection. This relies on working through local NGOs or CSOs, government representatives and village elders and guides to locate groups and specific households – usually without introduction by the commissioning NGO and with no background information on the project (blindfolding). All of this requires building trust and relationships with people previously not known to the researchers, a great skill in our research network – and not easy to replace with remote technology.
Our first online discussion faced this tension head on, acknowledging the value of other lighter touch approaches, but mindful that these cannot replace all the aspects of in-depth, longer conversations. Detailed qualitative analysis of narrative transcripts relies on collection of detailed stories, in QuIP particularly looking for people's own explanations of causal mechanisms, facilitated by researchers who must let respondents tell their own stories without too much prompting or guiding. This kind of subtle teasing out of stories is much harder to do with any sort of technological barrier, indeed we usually ask researchers not to use tablets or laptops to take notes – to help ensure that eye contact and natural body language is maintained as far as possible.
An anthropologist on the call stressed that while a combination of on- and off-line contact can yield good results, relying on digital communication alone cannot replace the 'fieldwork funnel', where the observation of everyday life may encompass hours or days of life, before isolating key moments and narratives which start to narrow the thematic funnel. Researchers on the call also highlighted the difficulty of conducting research on sensitive topics such as domestic abuse, or child marriage; even if they felt able to talk to a trusted researcher, where would be a safe space for someone to have a conversation like this on a telephone?
So, what does this mean for a world where movement and social interaction is likely to be limited for many people? We don't have answers, this is slowly evolving process of 'trying, learning, fixing, and trying again' (to quote Bob Mbori from Ascent Consulting in Tanzania). We know that the presence of 'outsiders' in many communities will be seen as threatening, with fears about bringing the virus into rural areas, so any kind of physical interaction needs to be very carefully considered. We discussed the potential for innovation in the space, with some silver linings possible.
We are likely to see a huge reduction in the carbon footprint of international consultants travelling to collect data, and hopefully a move towards more use of national researchers in data collection. The discussion considered a move towards an even more localised approach, looking for researchers in regional universities and consultancies where local travel within provinces may be allowed. Using local researchers or guides and community gate-keepers may offer a way of accessing respondents who wouldn't otherwise respond to a call – potentially still conducting telephone interviews, but using their telephone rather than the respondent's, placing a telephone on speakerphone in between two people or small focus groups using appropriate social distancing guidelines. This maintains some personal connection with someone who may even be known and trusted to the respondent. This will of course complicate fieldwork, requiring us to find more people to be involved in every project, and making any sort of blindfolding much harder to maintain. However, forging new and meaningful relationships with more regional partners would be a very positive outcome.
Other practical measures suggested by research organisations include reducing the size of focus groups and holding them in outside spaces or larger halls where possible, seating people in a W shape rather than a circle, and ensuring all participants have some sort of face covering and facilities for hand washing or sanitising.
We anticipate life changing for everyone over the next few months, with all of us having to adapt to new ways of living and working. This does not preclude rural communities, who may also become more used to communicating over the telephone with family and friends who can no longer visit; in the longer term it may become easier to connect with people in this manner. However, we should not overestimate connectivity and access to mobile networks for those 'hard to reach' communities whose voices must not be lost in a new world of remote surveys.
Where scope for qualitative research and evaluation is even more constrained by practical issues affecting who it is possible and not possible to contact and interview, then it is even more important to be transparent about how cases and sources are selected. A case study can be far more than an anecdote, but only if the reader is informed enough to understand how it fits into a wider picture or context. If COVID-19 can facilitate a richer and fuller discussion of case and evidence source selection, then that will be a positive outcome. (Watch this blog for details of a forthcoming article on QuIP case selection in the Journal of Development Practice)
Whilst it is likely that in the coming months there will be a surge in demand for research related to resilience and impacts of COVID-19, evaluation of new and existing development projects must continue, and we must find ways of continuing meaningful conversations with people – both about life in a pandemic, and changes which were already happening in their lives before the pandemic. The conversation with our researchers will continue over the next few months and we will share experiences and best practice. QuIP research is currently on hold, but we are making plans to start work in Zambia and Ghana as soon as safe guidelines can be followed for researchers and respondents alike. We will continue to try, learn, fix, and try again.