Book now for next QuIP training course starting 26th February 2024!
By Jo Burman | 25 September 2023 | News
Our next Lead Evaluator Course in QuIP project design and management is booked to run between 26th February – 4th March 2024. Find out more about the course and see testimonials from previous attendees here!
See the course schedule for how the course is split between self-study and live sessions spread over a working week, including up to five live sessions.
The course will offer an in-depth introduction to the theory behind QuIP as well as the practical aspects of designing, costing and managing a study from sample selection to final data analysis. The schedule includes four live sessions on days 2, 3, 4 and 5, and an optional session on day 6. The modules cover:
Methodological overview; main features, contexts where QuIP fits best
Planning a QuIP: time scales, roles and expectations
Case selection
Questionnaire design
Data collection
Data coding and analysis in Causal Map (an overview – this will require further practice)
Use of results
Please contact Jo to book places on this course, via jo@bathsdr.org.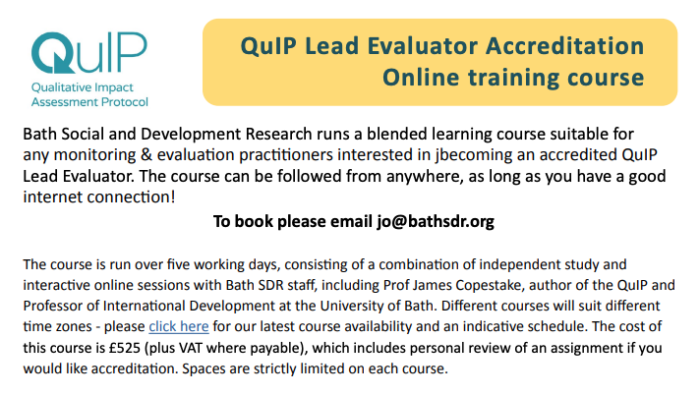 We try to run courses every 3-6 months, but this is subject to demand and our internal work schedules. If you are interested in hearing when dates are released or you would like to arrange an in-house session, please contact jo@bathsdr.org to be notified about future training dates.